Whenever a friend visits our HQ, I proudly show off my combination sit/stand desk. Often, that results in an email asking where one buys such a thing. One buys such a thing on amazon.
Wait, why a standing desk?
Sitting is killing you, apparently. I don't get as much exercise as I'd like now that I'm out of college, and at the least, standing for part of the day means I'm getting at least some exercise.
The options I explored
There have been a few "Standing desk for cheap" blog posts on Hacker News recently, but none of those allow me to easily move from sitting to standing. I could sit on a high stool, certainly, but that didn't seem particularly ergonomic. So, I went for the cheapest effective adjustable setup I could find.
My stand is reasonably cheap ($370) and slides from sitting to standing via a gentle pull of the monitor up or down. I couldn't find anything else that offered a similar service for under $600 or so.
There are several models of the Ergotron available, depending on # and size of monitors you'd like, and whether you need a laptop at standing height as well. One 30'' was plenty for me, and came in at $370. Adding a second screen or a monitor would have bumped the price, but not by much.
How I like it.
Installation was reasonably straightforward (took about a half an hour to build the thing). The mount expects the back of your monitor to have certain dimensions in the mounting hinge. Check before buying.
Overally, I'm pretty happy with the purchase, given the price point.
I'd be lying if I say that I've gotten myself standing most of the time. I'm writing this sitting down. But I definitely stand more than I would otherwise; it really depends on my energy on a daily basis. I've definitely still got room for improvement.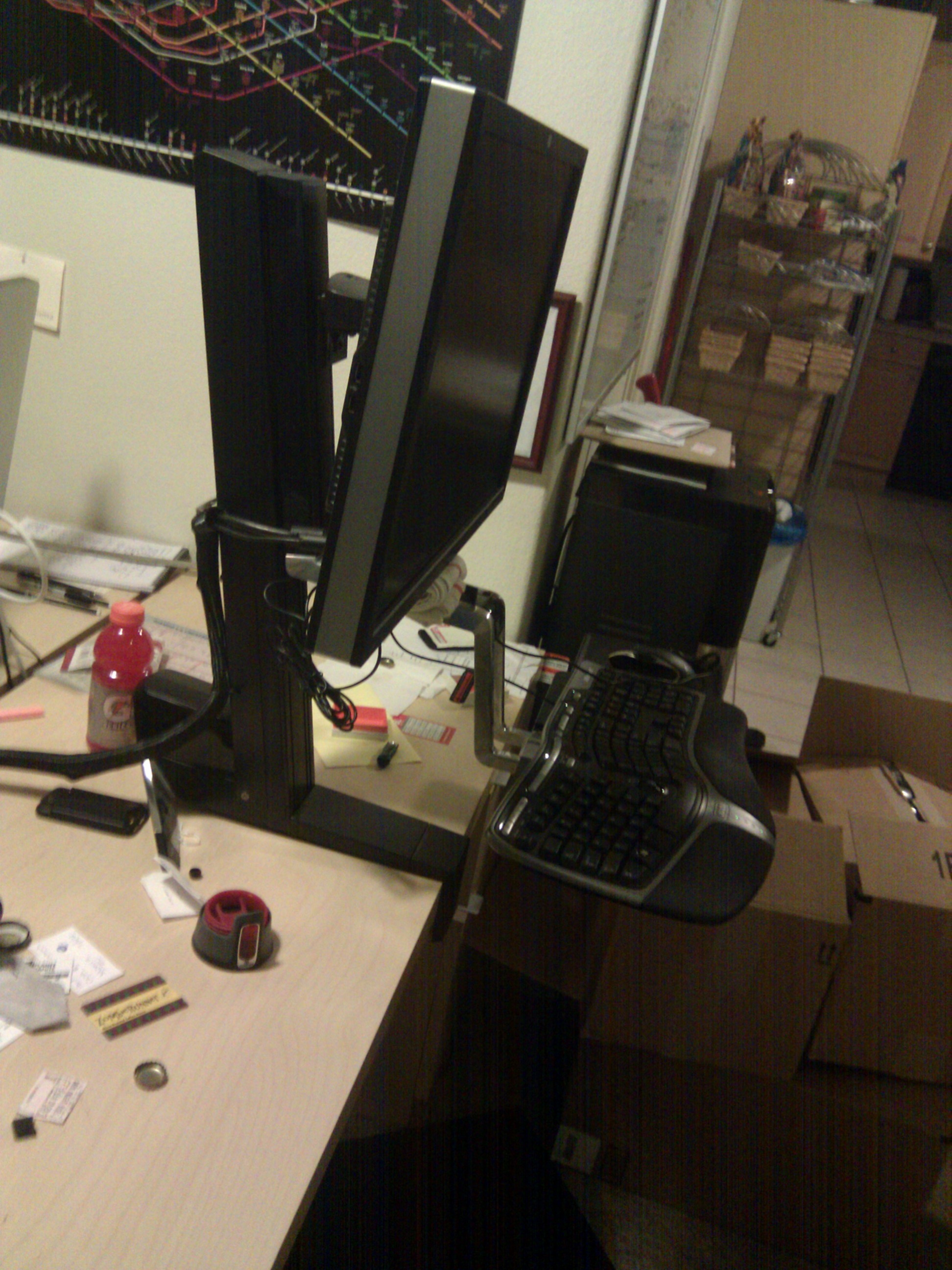 So, that's my setup. Feel free to get one for yourself.
PS: A friend of mine is running a kickstarter for a portable standing desk, for $150. Seems pretty useful if you want to travel and have a standing work setup.
Tags: #cool products #advice #quick post